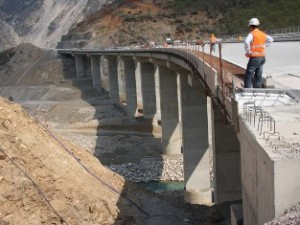 Tags:
albania property
,
Albania Property For Sale
,
Albania Real Estate
,
Albanian Property
,
albanian real estate
,
buy property in albania
In the second quarter 2013, Albania's Construction Cost Index reached 101.8 percent (Q.I 2011 = 100) recording an increase of 0.2 percent against the previous quarter, while the annual change of it was 1 percent.
In the same period of year 2012, this change was 0.9 percent. The "Material Expenditure" index group is increased by 0.2 percent, in Albania, against the previous quarter. Within in this index group the price index of subgroups "Electric and communication materials" and "Hydro-sanitary materials" signed a decrease respectively by 0.9 percent and 3 percent. While the price index of "Construction materials" is increase by 0.8 percent compare with the previews quarter.
The index groups of "Salaries fees" and "Machinery fees" signed an increase respectively by 1.9 percent and 2.2 percent compare with previews quarter. While the "Other costs" index group is decreased by 0.5 percent. Meanwhile, index of "Transport fees" group signed an increase by 1.3 percent.