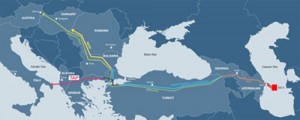 Tags:
albania property
,
Albania Real Estate
,
Albanian Property
,
albanian real estate
,
buy property in albania
Trans Adriatic Pipeline (TAP) announced on Friday it is beginning the process of contacting the land owners of the regions where the natural gas pipes will come through, as the implementation of the biggest energy project in the Greek area gets underway.
The consortium that will construct the project to transmit Azeri gas to central Europe via Greece, Albania and Italy, stated that it has authorized its contractors to start surveys for collecting detailed information on the landowners living along the pipeline corridor to complement the existing cadastral data.
The objective of the process is to identify rightful land owners, establish property boundaries and evaluate the affected properties.
TAP's Land Easement and Acquisition (LEA) process is based on acquiring access rights to land, in order to establish access for the pipeline.
TAP will require temporary access to land for the construction strip where the pipeline will be buried and permanent access to land for installations such as compressor stations, block valve stations, etc.
Following construction, TAP will also require land easements for the pipeline corridor and safety zones.
It is planned that TAP will be ready to transport first gas from the Shah Deniz natural gas field in Azerbaijan to central Europe in 2019.