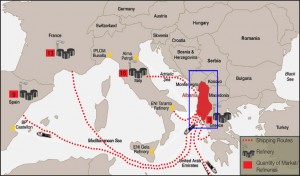 Tags:
albania property
,
albanian real estate
,
buy property in albania
Petromanas Energy Inc., Calgary, has continued to surmount drilling difficulties at its Shpirag-2 exploratory well on the Berati thrust belt in Albania.
Following the sidetrack announced Feb. 11, the company took steps to mitigate instability in the lower flysch shale zone above the target carbonate reservoir that it believes contributed to improved hole stability. Those measures afforded a period of solid drilling progress that saw the well reach a depth of 5,275 m in the upper carbonate zone.
The bit became stuck, and more hole instability was experienced. During drilling and before circulation was lost, the company observed indications of the presence of oil and gas from the upper carbonate in drill cuttings.
On this basis, the company is sidetracking the well at 4,810 m. After the well reenters the upper carbonate, the company intends to set casing from the previous casing depth of 4,750 m to put the lower zone of unstable flysch shale behind pipe (OGJ Online, Dec. 4, 2012).
Shell continues to actively participate in Petromanas's initiatives on Blocks 2-3 and brings extensive carbonate drilling and completions experience to the project.
Petromanas has finished plans and logistics to log, complete, and flow-test Shpirag-2 once it reaches total depth. Total cost to drill the well to this point are $53 million US or $14 million net to Petromanas. The cost to 5,800-6,000 m is estimated at $67 million, said BuyinAlbania.com